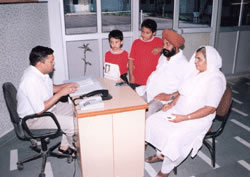 Parent Teacher Counselling
Education is the most powerful process of modern times. The main purpose of education is to provide a coherent picture of the universe and an integrated way of life. It is imperative to involve the larger section of the society, specially the parents, in the process of education. Only the proper rapport between the teachers and parents can help the child to learn and grow. The progress of the child is discussed with the parents at regular intervals. For this purpose, the school has constituted the Parent - Teacher Association & conduct PTMs. regularly after every semester.
Special Instruction For Parents
The hostel will be closed during the summer and winter break.
Parents can meet their wards and teachers on the Schedule PTM days only for Class I –X of every month. Teachers will be available from 10:30 a.m. to 1:30p.m. Parents coming late will not be entertained.
The parents can talk to their wards on phone on the prescribed day only between 4:30p.m. and 5:30p.m. calls coming on unscheduled day/ time will not be entertained.
Students collecting time is 2:30p.m. To 4:00 p.m. and reporting time is till 5:00 p.m. in the evening or in the next morning before 8:00 a.m. Students coming late will be not be allowed to enter the campus and have to come again.
After every vacation the students have to report back before the next working day of the school. Students coming late will be fined for Rs.500/- per day.
Parents can meet the Principal / Director on all working day also from 11:00 a.m. to 4:00 p.m. with prior appointment only.
Parents who wish to take their ward for leave can submit their application for the same at least seven days before in the school through Fax / Courier / E-mail "info@sgis.in" or by hand in the school office.
The House System
The entire school community is divided into four houses, colours being green, yellow red & blue. Each house has a house mistress. There are regular inter-house competitions in sports, elocution, dramatics, music, dance, quiz etc. This will help in building team spirit, self confidence, tolerance, sense of responsibility and leadership.
| | | | |
| --- | --- | --- | --- |
| | | | |
| Azad | Bhagat | Patel | Subhash |